Despite the progress made to prevent and control sexually transmitted diseases, STDs among African Americans are on the rise and African Americans are still at a greater risk of acquiring a sexually transmitted disease over other members of the population.  Representing about 14 percent of the general US population, African Americans account for over half of the new cases of HIV/AIDS and syphilis.  While accounting for one-third of the new cases reported of Chlamydia and two-thirds of the new cases of gonorrhea that are documented with testing centers and other healthcare facilities.  The CDC among other health professionals are reviewing both social and economic factors along with the individual health decisions and how these elements are playing a part in the spread of STDs among this segment of the population.
Use of Medical Services
With STD clinics and testing centers more available, African Americans tend to use medical services much less than whites or other cultures.  Some studies show this trend is due to a mistrust of the medical and healthcare providers.  Past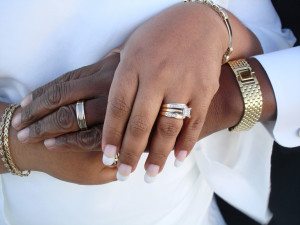 history of social discrimination noted among the African Americans has lead to the distrust and the tendency to not seek treatment when needed.  By not seeking medical attention, STDs among African Americans, and other infections, continue to spread at a higher rate among this group, especially among the 13 to 29 year age brackets.  The young women in this age group are even more at risk as so many STDs do not show symptoms until the late stages of many of the diseases.
Young African American Males
The stigma of some sexual encounters among the African American culture makes it hard for some to seek medical treatment.  Young black gay and bisexual males are harder hit with new sexually transmitted disease infections than heterosexual males of similar groupings.  These young males account for the higher increase in documented new cases than any other racial or ethnic group of men.  These male groups having sex with other men or experimenting in sex with men and women are seeing increases in HIV/AIDS, syphilis, gonorrhea and Chlamydia.  Young African American men as young as 13 years old are at risk for sexually transmitted diseases, based on recent documented cases.
Young African American Females
African American young women are acquiring HIV/AIDS through heterosexual relations. Most are diagnosed in the late stages of the disease or not at all.  In many cases it is too late to begin treatment to receive the full benefits that could have prolonged the life, as many cases are discovered after or near death.  One recent study discovered that as great as 20 percent of African American youth progressed from HIV to full blown AIDS within a year of the initial diagnosis.  AIDS is still the third leading cause of death among African American women between the ages of 25 and 34.  To many in the African American communities do not have the critical information needed to seek out testing for STDs and receive the proper treatment.  Continuous outreach to the African American community and the youth is hoping to educate the need for early detection.
Gonorrhea and Chlamydia
Even with the ease and availability of condoms, the African American communities have the highest rate of gonorrhea and Chlamydia with the CDC estimating half of the cases will remain untreated and continue to be spread to others.  The CDC recommends annual STD testing for all that are sexually active, especially young women.  All pregnant women should be tested for syphilis, HIV/AIDS, hepatitis B and Chlamydia.  Those women with high risk pregnancies should also be tested for gonorrhea to protest the unborn child and health of the mothers.
All those participating in unprotected sex or other risky behaviors should be tested annually or more often should symptoms occur.  Early detection is the key to people getting proper treatment and with most STDs being curable, testing is the first step to maintaining sexual health.  No matter the ethnic group or culture, health concerns should be addressed by seeking out information.  Brochures and other information are available at the local health clinic or testing center with counselors available to discuss options as part of decreasing and even stopping the spread of sexually transmitted diseases.